Bali, Indonesia
Number one on our list of best honeymoon destinations in Asia in summer is Bali. The very utterance of the name Bali conjures exotic imageries of private beaches and volcanoes. Although the island does get busy during summer, newlywed couples can always escape the crowd to romantic beach villas or an eco-friendly hideaway surrounded by green rainforests.
Best Experiences
Get spiritual and explore the ancient and beautiful temples in Bali with your spouse
If you and your partner are art lovers, visit Ubud, the artistic capital of the island with several museums and a variety of informal workshop.
If you're looking for some adventure, young couples can manage a trek quite easily to the volcanoes of Bali- smouldering Mount Batur or the massive Mount Agung
Go swimming at Jimbaran Bay
Bask in the lovely beaches with the love of your life
Scuba Diving is another extremely enjoyable and popular activity in Bali that couples can enjoy
Maldives
The smallest island country in the world, Maldives can work up magic in your love life. Known for its turquoise blue waters, world class scuba diving scene and a romantic milieu, it is amongst the best honeymoon places in Asia in May, June and July. Floating bungalows and honeymoon resorts set on some of the bluest water you have ever encountered will make you and your partner want to stay here forever.
Best Experiences
Enjoy Maldivian cuisine and delicious sea food
Go scuba diving and snorkelling with your spouse
Newly wed couples can take romantic walks on the shore lines at full moon nights and see the water glowing in the moon light
Koh Samui, Thailand
Koh Samui is a beautiful island in Thailand with palm fringed beaches and bluest of waters. It is the most exotic honeymoon destinations in Asia in June and you can have the time of your life with your newlywed better half.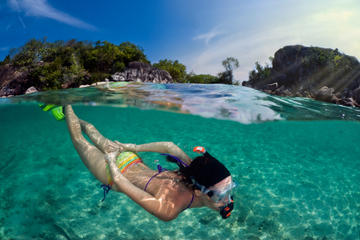 Best Experiences
If you and your spouse are beer lovers, then you've struck gold! The island is laden with amazing beer bars where you can get awesome local beers (Singha, Tiger, Chang, Heineken) at dirt cheap rates
The nightclubs at Chaweng Beach are the best!
Go scuba diving and snorkelling in the crystal clear waters of Koh Samui
Hong Kong
If your idea of a honeymoon deviates from the typical sandy beaches and blue skies, then plan a romantic escape to one of the happening and best honeymoon destinations in Asia – Hong Kong. The big bustling city life, world class hospitality, exotic parks and gardens, and award-winning restaurants make Hong Kong a perfect couple's retreat in Asia.
Best Experiences
The most spectacular viewpoint in Hong Kong is the Victoria Peak enjoy the sights of the city and its harbours from here with your spouse
A trip on the the Peak Tram, the city's oldest public transport, and enjoy the beautiful sights from the Peak Tower
The night air filled with romance is the time to take a trip together to see the twinkling lights of the city below